[Cuba, February 2023] Filmmaker Diana Moreno is using her production company, Wajiros Films, to redefine what it means to be Cuban – and train the next generation of filmmakers.  She and her company got a boost in business after she participated in an U.S. government exchange program, the Academy for Women Entrepreneurs (AWE), which is helping her to expand the company.
Cuban filmmaker and AWE alum Diana Moreno uses her film company to promote women's perspectives in Cuba's film industry.
It also helped her bring a unique feminist perspective to Cuban cinema. One of Moreno's personal goals is to use her company to promote more inclusive and diverse voices in Cuba's small but growing independent film industry.
"The majority of people working in film are men," Moreno said.  "I had to mark my territory and it was such a challenge. But I have more women working with me now."
Moreno started making movies in Camaguey, a small town in central Cuba about 500 kilometers (300 miles) from the capital.  But without many opportunities to pursue film at a professional level, she moved to Havana where she founded Wajiros Films with her husband in 2017.
She sold her car to scrape together the money to buy a professional film camera.  With that, her business was born.
"We wanted to make films that portray the whole country," Moreno said, emphasizing how the company is trying to overcome geographic barriers to portray a more balanced view of Cuba through storytelling in disadvantaged and rural parts of the island.
Moreno's first professional movie camera, which she bought by selling her car. 
She added that this ambition was the inspiration for the company's name "Wajiros," a riff on a Cuban word "guajiros" which roughly translates to "country bumpkin."  According to Moreno, changing the spelling of the word gives it new meaning, turning a pejorative connotation of rural life into a source of national pride — a theme in many of her company's films.
Participating in the AWE program helped Moreno take her company up a notch, she said, through three months of entrepreneurship development and mentoring.
She was part of a class of 30 women entrepreneurs who learned core business skills in strategic planning, marketing, and finance using the DreamBuilder learning platform, developed by Arizona State University's Thunderbird School of Global Management.
Moreno filming on the set of her short feature film, "Los Coleccionistas," which takes place in a small fishing village.
"AWE was amazing," said Moreno.  "It helped me to take a step back from my business and really analyze it."
Moreno described walking out of AWE sessions with her head full of questions, which helped her later to make key strategic decisions in marketing and finance. She worked closely with an AWE mentor
— a woman entrepreneur who graduated from the AWE program in 2021, and who helped her improve her business plan.
"Through AWE, I realized we needed specialized social media people who could monitor the web for us, and come up with a targeted strategy," Moreno said.
As a result, she hired a marketing agency, which meant she spent less time looking for new clients, and more time doing what she loved — writing and directing films.
She had a similar epiphany about the company's finances and hired a Finance Director to help the company strategically leverage its resources in line with its long-term goals.
"We are artists. But this is a business, and we need to run it to make money to pay our employees," Moreno said.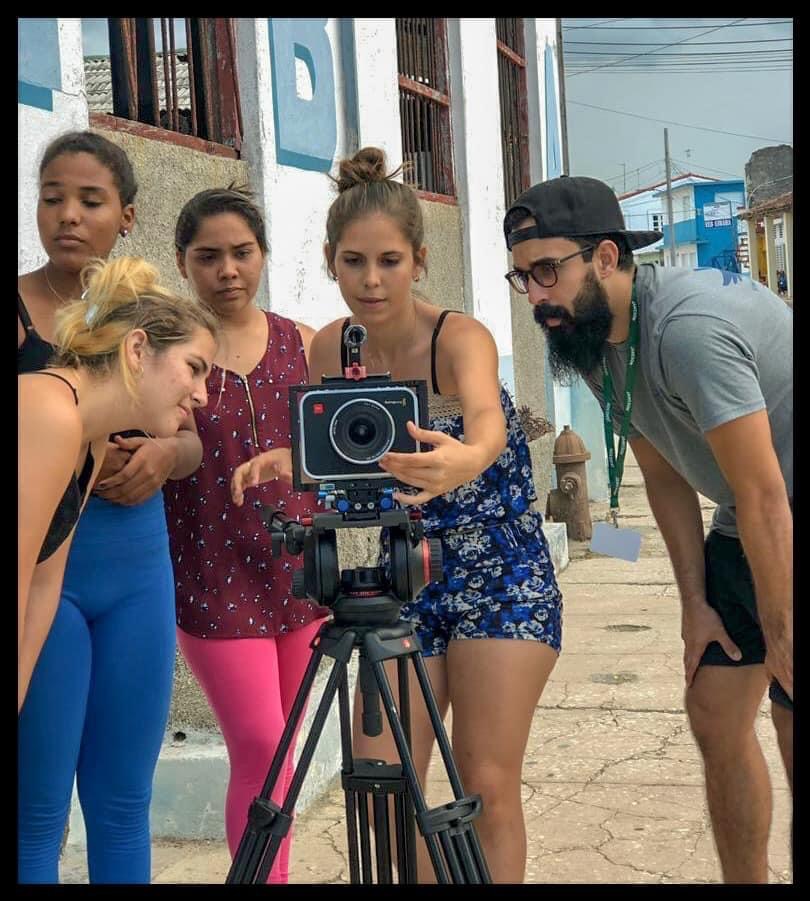 By training other women to be producers, directors and screenwriters, Moreno is helping to bring women's perspectives into the film industry. 
After hiring two additional staff members, the company's monthly revenue jumped from $4000 to nearly $12,000 — a considerable amount for a business in the Cuban economy,
which Moreno says has suffered under inflation and frequent shortages of basic necessities like food and water.  She said the increase in revenue has allowed them to keep
15 people on staff and is helping Wajiros expand its production capacity. So far, the company has released 50 short features and documentaries, ten full length films and a variety of corporate video projects.
Beyond running a successful production company, Moreno has a larger objective.
"Promoting women in film is part of why we founded the company," Moreno said, adding that more than half her employees are women.
Part of Diana Moreno's objective is to foment more inclusive storytelling by training the next generation of female Cuban filmmakers.
Wajiros Films sponsors a community project called "Varentierra" that teaches women and disadvantaged youth outside the capital the power of storytelling through film. Every year Varentierra hosts a 2-day festival to mentor the island's next generation of filmmakers
through short film projects that cover tough social issues, from poverty to climate change, using the cameras and microphones they already have in their pockets.
"We want them to produce responsible video projects, even just using their own phones," Moreno said.
Through Varentierra, Moreno has trained about 2 dozen women, which is helping introduce more nuanced, intimate, and inclusive perspectives into Cuban filmmaking.  Moreno's own short feature film "Los Coleccionistas" (The Collectors), which follows the life of two young siblings in a fishing village who struggle in the shadows of sexual abuse,
has been praised by critics as an example of provocative feminist storytelling that is part of a systematic increase of women's voices in independent film.
Moreno's short feature film "Los Coleccionistas" offers a provocative look at social issues in a small Cuban fishing village. (Courtesy of Diana Moreno)
Moreno was recently chosen to be a mentor for the next AWE class.  She said she hopes she can pass on the optimism and support she received during her time with AWE to future Cuban women entrepreneurs.
"Running a business as a woman in Cuba is complicated," Moreno said.  "Sharing our experiences with other women is an inspiring and gratifying experience. [AWE] made me realize that I can do anything, and that I am not alone."
The U.S. Embassy recently reopened its consular operations in Havana in January 2023, but has operated the Academy for Women Entrepreneurs as a virtual program in Cuba since 2020, benefitting more than 120 women entrepreneurs like Diana Moreno and building the relationship between the U.S. and Cuba.
AWE has provided 25,000 women entrepreneurs in 100 countries around the world with the knowledge, network and access they need to launch or scale a business.
To learn more about AWE visit: https://eca.state.gov/awe